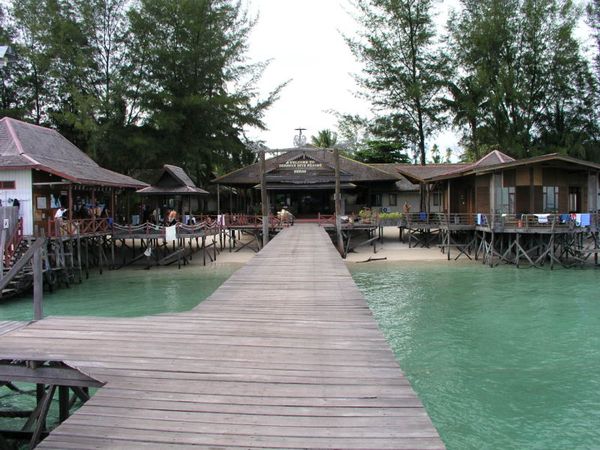 Derawan island is perfect tropical paradise. The warm atmosphere surrounded by the white and smooth beach sand, tall and green palm trees, the clear water that can be changed from green into dark blue colour.
The underwater life of Derawan island is incredible where you will find giant turtle, dolphin, stingrays, sea cows, baracuda, and stingles jellyfish. The shark over here is one of biodiversity in the world. Not surprisingly, Derawan island is known as one of the best diving tourism object in the world.
Located not far from the mainland of east kalimantan in Berau regency, Derawan island consist of 31 islands and the most famous among those islands is Derawan island, Maratua, Sangalaki, and
Kakaban
.
Two green turtles swim together in Derawan island
Derawan island is a nest of rare and dangerous green turtle, also hawksbill. Everyday you can witness turtles spawn in the sand or you can swim in the sea together with turtle. The size of entire region of sea conservation is about 1,27 millions hectare.
In Derawan island, you can find 460 species of corals and take the second position after Raja Ampat in
West Papua. The management of conservation place and team of international experts also find more than 870 species of fishes here, start from dwarf seahorse until giant stingray. In a few days, a group of stingrays within a number of 50 stingrays eat together around Derawan sea.
Stingray that sometimes appears around Derawan island
While in
Kakaban
, you can find the greatest jellyfish lake and the most various in the world, include 4 unique species of stingless jellyfish that can swim backwards. This is the reason why Kakaban is considered to become the nomination of World Heritage Site of UNESCO.
Derawan islands has a great number of unique and protected species like coconut crab, whale, dolphin, and sea cow. The coconut crab is found near
Kakaban
island and Maratua island, while you can see whale and dolphin in certain months in Semama, Sangalaki,
Kakaban
, and Maratua.
The sea cows swim around Panjang and Semama island, while stingrays is found near Sangalaki. Seahorses is located around Semama and Derawan. Another protected species is baracuda. There are 28 spots of diving here. The divers need at least 10 days to explore all of those places.
How To Go There ?
The underwater biodiversity of Sangalaki
To go to Derawan island, youc an fly from Singapore to Balikpapan in east kalimantan. You also can take the flight from jakarta, Surabaya, or Denpasar to Balikpapan by Garuda Indonesia or Mandala Air. Then you take one more flight by KALStar, Deraya airlines or DAS to Tanjung Redep in Berau. From this place, a ship will bring you to Derawan island.
Many resorts in Derawan provide transportation and diving equipments. For the accommodation, many resorts over there provide cheap bungalow with the kalimantan style that overlook to the beautiful sea. You can rent a ship house that is designed as residence if you want to live on the ship, usually for a far travel.
The sunset atmosphere in Segah river.
If you want to continue your holiday to Sangalaki island, you can take a flight from International Airport of Soekarno-Hatta in Jakarta to Sepinggan airport (BPN) in Balikpapan that is serviced by Garuda Indonesia, Air Asia, and Lion Air.
From Sepnggan, you can use Deraya plane to the mother city of Berau regency, Tanjung Redeb. Deraya serve the commuter and rented flight. Along the travel, you can see the life of local society in the hinterland of Kalimantant that is not affected by modernization.
After arrive in Tanjung Redeb, you can continue your travel by speed boat along Segah river to Sangalaki. Seeing the local society that live in the riverside and children play happily will make you smile after the long travel. So far, it's needed 8 until 9 hours from Jakarta to sangalaki.
Besides visiting Sangalaki, you can visit other islands like Maratua or
Kakaban
island. In Sangalaki island is built a resort called
Sangalaki Dive Lodge
that will prepare the lodging facilities, facilities to dive and some guides to dive.
For more information about Derawan and Sangalaki tourism object and another tourism objects in Indonesia please visit
Wonderful Indonesia
May be useful and Thankyou for your visit :)